British Science Week 2023 – Connections
British Science Week 2023 – Connections
The Science Faculty asked S1 pupils to make a diorama of an ecosystem as part of British Science Week 2023. This year the theme was 'Connections', and pupils were connecting the plant and animal life found within their chosen ecosystem or biome.
We have been overwhelmed by the excellent models produced and thought that we would show a selection of the amazing work produced by 10 of our pupils. I think you will agree that these show creativity, skill and hard work to produce such fantastic work.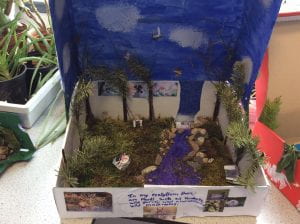 Well done again to everyone, we have only shown 10 of the many outstanding dioramas produced.