POST RESULTS
Once you receive your SQA exam results, whether things don't go to plan, or are better than expected, there are a number of practical things you can do as you look to the future.
This page will direct you to a range of information and support options including
Skills Development Scotland support services
SQA Candidate Advice Line
Information on the SQA Post Results Service
The Alford Academy SQA Support Line
The Alford Academy Options review appointment booking system
Advice and information for Parents & Carers – The National Parent Forum of Scotland
Skills Development Scotland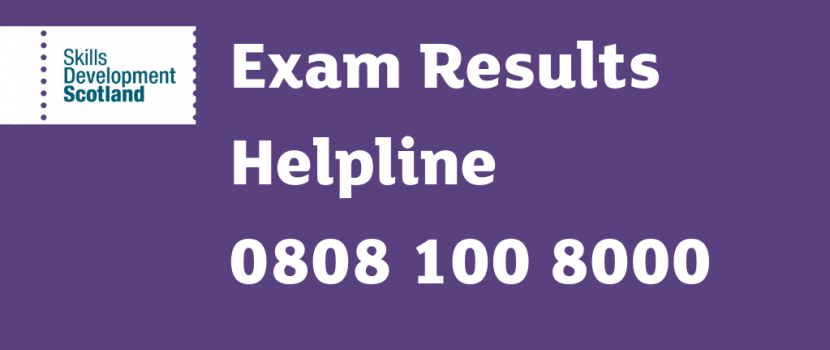 From results day onward, Skills Development Scotland (SDS) have support services over the phone, online and in person to help you work out what to do next.
Over the phone
Learners, parents and carers can call the SDS Results Helpline (0808 100 8000) to speak with one of SDS's trained advisers about their options. From apprenticeships to UCAS Clearing, college to employment, they have information on what you can do next. The Helpline is open on 8 am to 8 pm on Tuesday 6 and Wednesday 7 August, and from 9 am to 5 pm weekdays from Thursday 8 until Wednesday 14 August.
Online
Scotland's online careers service My World of Work has lots of useful articles and information to help you plan your future. You can check it all out at myworldofwork.co.uk/examresults.
On social media
You can message advisers via DM on Twitter at @mywowscotland or private message via facebook.com/myworldofwork or your local SDS Facebook page.
In person
The local SDS careers center is in Inverurie ( Contact number 01467 623623) and careers advisers are available on Tuesday and Thursday 9am to 5pm (excluding 12:30-1:30), year-round – not just on results day – to offer advice on your career options. The Aberdeen SDS Office phone number is 01224 285 200.
Your school Careers Adviser – Linda Johnston, will be in the SDS Inverurie Office on Tuesday and Thursday and is available to meet Pupils on campus by appointment.
Linda is also available Monday to Thursday of the week commencing 12 August for anyone who would like to meet to discuss their next steps.  To book an appointment with Linda please email linda.johnston@sds.co.uk, call the Inverurie office or phone Linda directly on 07557170081
"The most important thing to remember is – don't panic! Whatever your results, there is a way to follow your ambitions, and SDS advisers are ready to help you think about options."
SQA Candidate advice line
For help in understanding your certificate you can check out this link, or contact the SQA candidate advice line.  This is available from 6-9 August 2019
SQA Post Results Service
If a school has concerns about your grade for a National 5, Higher or Adv. Higher qualification, it may be possible for us to submit a post results service request to the SQA.
If you believe your results do not reflect your level of attainment throughout the last session, in the first instance your should on your return to school speak to your class teacher, AND your Principal Teacher of Guidance.  If you are a school leaver you should contact the Academy support line.
The school can request one of two options.
A clerical check makes sure that all parts of the materials have been marked, and that the marks have been correctly totaled.
A marking review makes sure that all parts of the materials have been marked, that the marking is in line with national standards, the marks have been correctly totaled and that the correct result has been entered.  Priority marking reviews can be requested by the school if the candidates requires a result to secure a conditional place at university or college.
The post results service can result in marks going down, as well as up, and if the school decides to make such a request you will be asked to confirm your support in writing.
Alford Academy Support Line
If you have not received your results by text or letter we can advise you by phone.
If you are a school leaver concerned that your results are wrong we can discuss the post results service.
If your offer of a university place is dependent upon having achieved specific 'bands', we can arrange for this information to be sent.
If you have any other query not covered by the support available from SDS or SQA.
A member of staff will be available to provide support on the 6 and 7 August 2019, can can be reached on 01467 534 758.  Thereafter your enquiry should be directed to the Academy switchboard on 019755 62251.
The Alford Academy Options review appointment booking system
If, after having received your results, you wish to discuss your subject choices, you should make an appointment to see Mr Cookson.  A small number of appointments are available before the start of term.  To see and book available appointments visit this link.
The National Parent Forum of Scotland results day advice and information for Parents & Carers 

The NPFS has collated a variety of information and links for parents relating to results day and supporting your child.  This resource can be found using this link